Books By Wendy Videlock
and Other Poems
by Wendy Videlock

Forthcoming from Able Muse Press (January, 2013)

Full-length collection of original poetry, for children of all ages, from Wendy Videlock now available for Order from Able Muse Press, Amazon, Barnes and Noble, Foyles, and other online and offline bookstores worldwide.
. . . READ MORE
---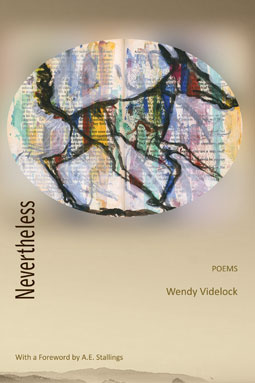 Now Available! -- Nevertheless
- poems by Wendy Videlock
The first full-length book of poetry

Now Available for order from Able Muse Press HERE
Signup for the newsletter forNevertheless and related events!
Go here.
What's That Supposed to Mean
- poetry chapbook by Wendy Videlock
Published by and now available from Exot Books
"As knowledge comes
by way of ghost, so time
is wan and taken.
Do not fear wandering naked."


"Wendy Videlock is a shapeshifter. Hers is a delicate gift to die for."
(Timothy Murphy, author: Very Far North)